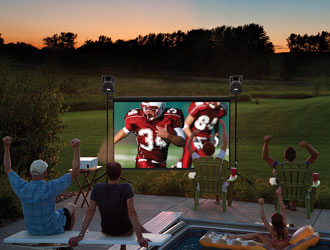 Tired of the same old parties? Looking for something different and inexpensive that you can invite all your neighbors, friends, schoolmates, relatives and family members? Turn your backyard into an outdoor cinema theater & watch movies, family slides or play video games on one of our huge outdoor movie screens under the stars!
Outdoor Movie Events are perfect for corporate events, church outings, summer camps, birthday parties, graduations, anniversaries, Mitzvahs, community celebrations, county fairs, resort entertainment, schools, swimming pools or neighborhood block parties. You supply the movie we will do everything else.
Outdoor Movie Night Packages
"Family" Movie Night

Backyard or Indoor use

Customer MUST pick up system at our Irvine Office

8' Electric Screen
80 Watt Speaker System
Good Quality Projector
DVD Player, Extension Cord
Note: Projector works best in complete darkness

$195.00
"Block Party" Movie Night

Outside use only
We deliver, set up, operate, tear down
12' Inflatable Screen
250 Watt Speaker System
Better Quality Projector
DVD player, extension cord
Mic included

$295.00
"Premier" Outdoor Movie Night

Outside use only
We deliver, set up, operate, tear down
21' Inflatable OR 21' Side of Game Trailer Screens
650 Watt Speaker System
Best Quality Projector
DVD player, extension cord
Mic included

$595.00

Outdoor Movie Options Include:

Lawn Chairs
$3.00 Each up to 12
Popcorn Machine & all the supplies
$50 – Up to 25 guests
$70 – Up to 50 guests
$90 – Up to 75 guests
$110 – Up to 100 guests
$150 – Up to 150 guests
More than 150 – custom quote
Wii, Playstation 3 or Xbox 360 controller rental
$50.00
Playstation 3 or Xbox 360 Rock Band Equipment
$75.00
Add our Open Air Photo/Video Booth for 2 hours
$595.00 Get unlimited prints
Outdoor Movies & Film Licensing
Screening copyrighted movies at a Gamez on Wheelz Backyard Movie event usually requires a public performance license. If you are hosting your own family outdoor movie night, you won't need one. Obtaining a public performance license is a simple process. The cost can range from $250-$600 depending on the studio, title and event date. Licensing costs can fluctuate weekly. Gamez on Wheelz cannot purchase the license for you, but we can help make it easy for you to obtain it. Here's what you do:
Select your movie title for your event. For a list of the current top movies go to: http://parks.swank.com/topMovies.html or find the top 50 ALL-TIME family favorite list by going to: http://parks.swank.com/topClassicMovies.html
Is it available on DVD yet? Usually if it is available on DVD for Home use it will be available for outdoor public use but each studio has its own restrictions. Be sure to check with your Swank or Criterion rep or check out http://parks.swank.com/newReleases.asp for all new releases.
Contact us to schedule our outdoor cinema services for your specific date and movie title
Talk with us about how to obtain your public performance license or go direct to www.swank.com or http://www.criterionpicusa.com. These are the only two companies that offer public license and they both don't carry the same movies.
Typically these companies will simply bill your credit card for the license. They'll notify you of any restrictions and they'll send you a printed license for screening the title at one address on a specific date. Either they'll supply you with a DVD or you bring your own.
Restrictions from Studios
Generally, if it's available on DVD it can be presented. Some filmmakers, such as Disney and its subsidiaries, have partially restricted use of their movie titles in outdoor settings. Please contact us to learn more. Respecting copyrighted movies is fundamental for legitimately hosting outdoor cinema events. By respecting the copyright licensing laws, Gamez on Wheelz and its customers help support outdoor movie cinema entertainment for years to come.